Nokia has been among the biggest brands when it comes to the world of mobile phone technology. Their journey has had many ups and downs but they are now back in the market and are here to stay. The Nokia brand, now owned by HMD Global, is back into the markets. With Nokia 3, Nokia 5 and Nokia 6, the company's presence has been felt for the past few months. Nokia is soon going to launch the Nokia 8 as well. However, amid all this hype and excitement, a new Nokia smartphone has now surfaced - the Nokia 2.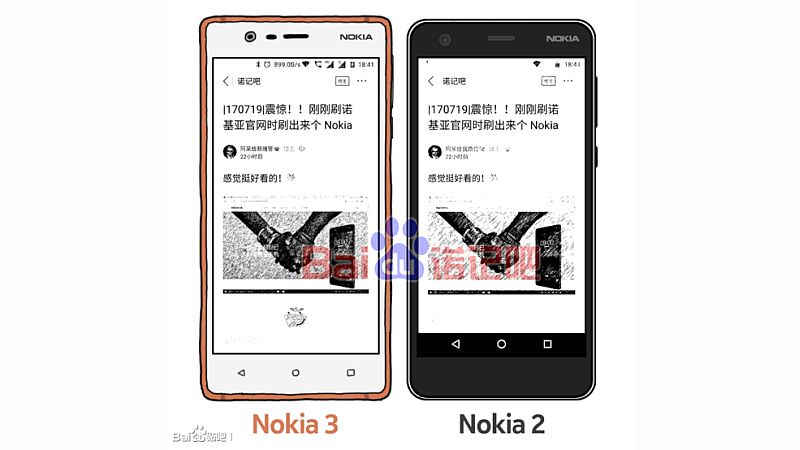 Nokia 2 is expected to be Nokia's budget device, coming in with basic specs. The phone was recently leaked online in a picture alongside the Nokia 3, as seen above. The phone is expected to be the most affordable of all the Nokia smartphones so far. Images of the device are surfacing on China's Baidu. Let us take a closer look at the device and its specifications.
Nokia 2 Specifications:
The upcoming Nokia smartphone, the Nokia 2 is expected to run on the Qualcomm Snapdragon 210 (MSM8909)  processor. The phone is d to come out with a 4.7 inched display, and will not feature a fingerprint scanner, similar to the Nokia 3. The image that is shown above gives us an idea that the phone resembles the Lumia 620 a lot, especially the round edges around the phone.
As of now these are the only details available about the phone. It is expected to be priced in at a very low rate and would compete with the entry level phones such as the Moto C/Moto E and Xiaomi's basic devices. Current speculations indicate that the Nokia 2 would be announced alongside the Nokia 8, on the 31st of July. Stay tuned with us for more information on this entry level Nokia smartphone. We will be covering the launch live on the 31st.