Tim Cook claims that the Apple Watch is now the number 1 smartwatch in the world. He states that the Apple Watch customer satisfaction rate is of 97%. Apple's smartwatches have helped people live a productive and healthier life. Cook plays a video featuring a number of Apple watch users telling their stories of how the Apple Watch has helped them.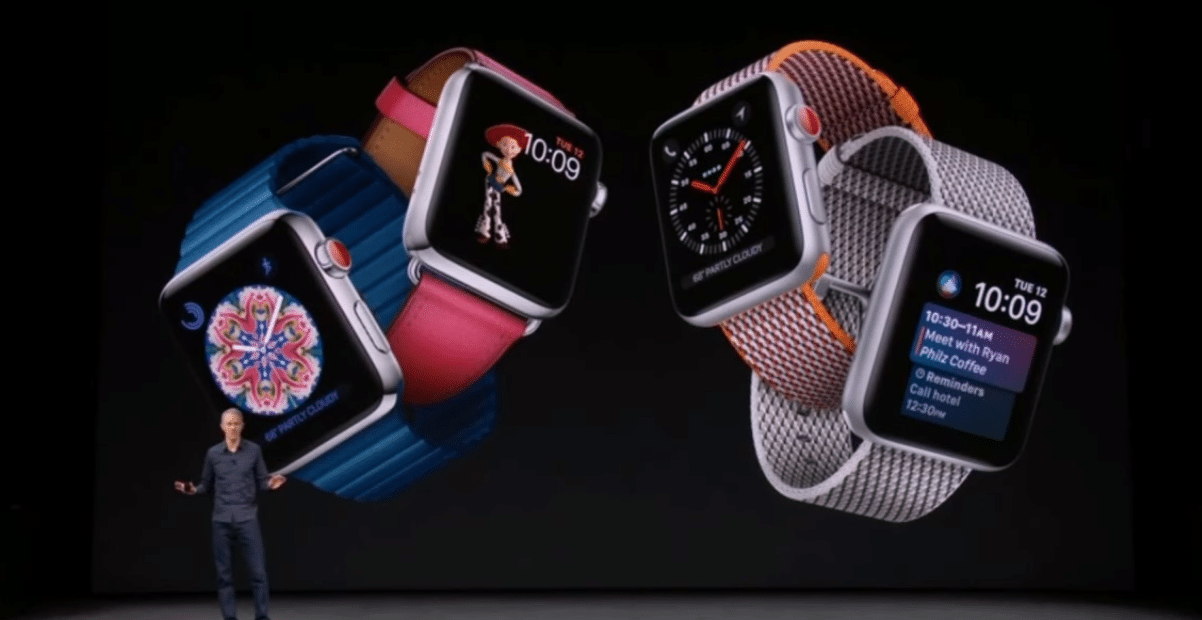 WatchOS 4
Apple introduces more health focused features such as activity trainers and better support for swimming. Apple Watch is now the most used heartrate monitor in the world. The monitor will now show you even more information such as resting heart rate, recovering heart rate and much more.
Apple's new Watch will now notify you if you have an unusually high heart rate while you don't appear to be active. The watch will also be able to detect irregular heartbeat (arrhythmia) - a leading cause of stroke. It often goes undiagnosed but the Watch will be able to detect irregular heart rate. Apple announced 'Apple Heart Study' which will use data from the watch and look out for irregularities.
The WatchOS 4 has redesigned the watch face and will be available to all Apple Watch customers starting the 19th of September.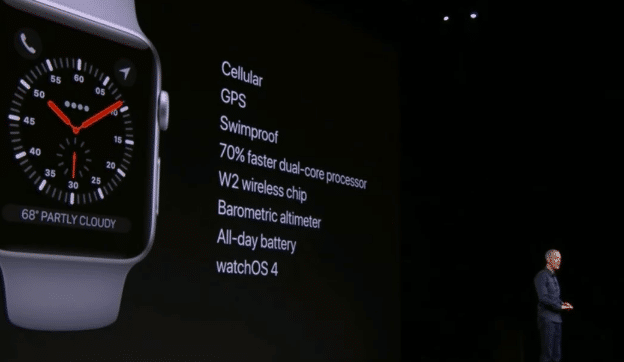 Apple Watch Series 3
This gen-next watch comes with cellular support! This has been asked of Apple for years and the company has finally introduced this. The watch will allow you to play 40 Million songs right off your wrist which you can listen to via the earpods. Siri can find music for you on the watch itself!
Apple states that the Watch will now run on a dual core processor which is 70% better than the previous generation. Siri works faster than ever before. A W2 Chip powers Bluetooth and Wi-Fi. The watch also comes with a barometric altimeter. Interestingly, the display itself acts as an antenna! The watch would run on an electronic SIM card which is even smaller than a nano SIM.
Even with all the new features, Watch Series 3 is the same size as that of the previous watch. A call is made from the Apple Watch calling demonstration. Looks like the new Apple Watch has many new tricks up it's sleeve.
Two versions of the watch have been launched: $329 for regular and $399 with cellular. Series 1 Apple Watch is still alive and the price has been slashed down to $249. The watch offers an 18 hour battery backup. Orders start September 15th, the watch wilkl be available September 22nd.
Apple continues to push the bar with their Apple Watches. The watches are still focused towards health but many cool features have been introduced with this gen-next watch from Apple.