Human beings are social animals. This has been the defining statement for our species. We survived for hundreds of millions of years - lived through the ice ages, floods, and volcanic eruptions because we were 'social'. Social media has taken the concept of socialization to a whole new level. Anonymous social websites such as Omegle help users connect with strangers, helping form new friendships as well as interact with people from all around the world. Sites like Omegle are fun because they appeal to the curious side of us as humans.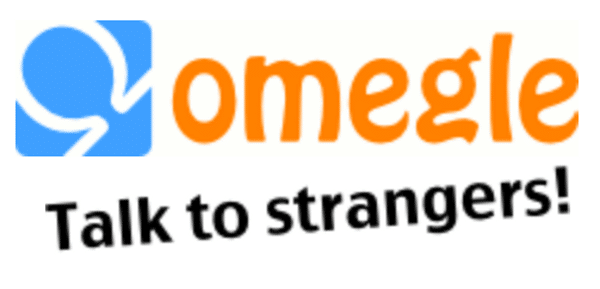 Omegle, which was created by a Vermont-based 18-year-old in the March of 2009, has since been massively popular. While Omegle allowed the users to chat with each other anonymously, the website shot to popularity when in 2010, it introduced video chat. Since then it is used by millions of users from around the globe on a daily basis and has been very popular. Following Omegle's popularity, a number of sites like Omegle have also started off. For those looking for more websites similar to Omegle, here's a list:
10 Sites Like Omegle That You Should Try Out
TinyChat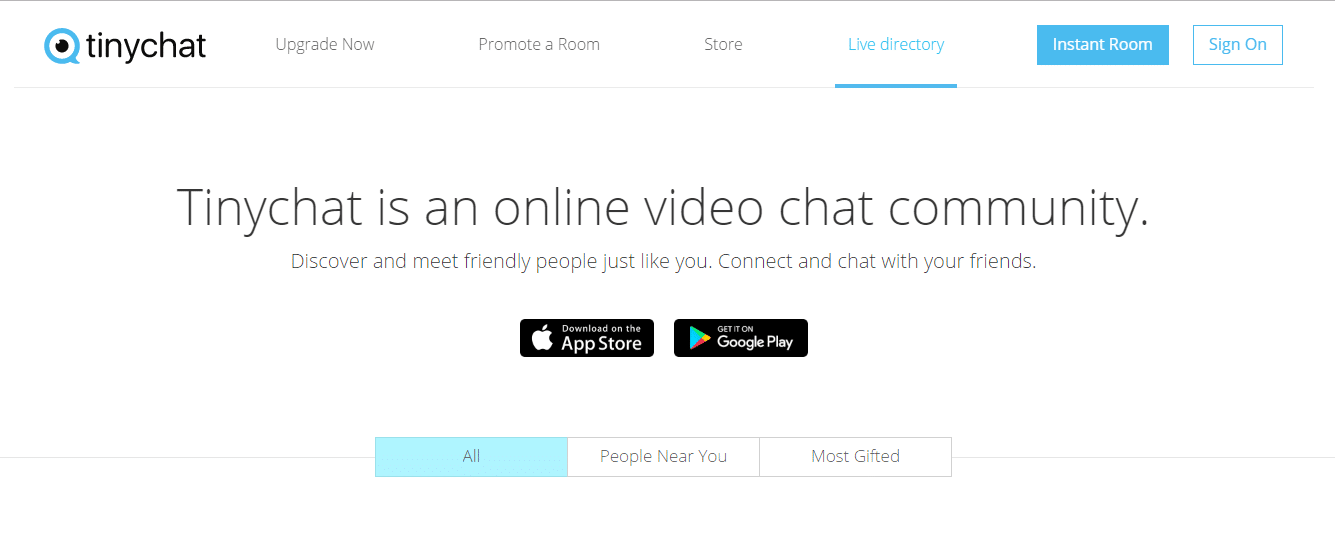 One of the most popular names for those looking for other sites like Omegle, TinyChat has been around for quite a while and offers the users with features similar to Omegle. The TinyChat service allows your regular video and voice chats with strangers on the internet. You can connect and interact with strangers based on your topic of interest and form friendships online on this platform.
In addition to this, this service also has support for chat rooms which users can create based on various topics as well as locations. Video chats are also permitted in the chat rooms and users can have as many as 12 video feeds going on in one chat room. This service is totally free of cost.
Fruzo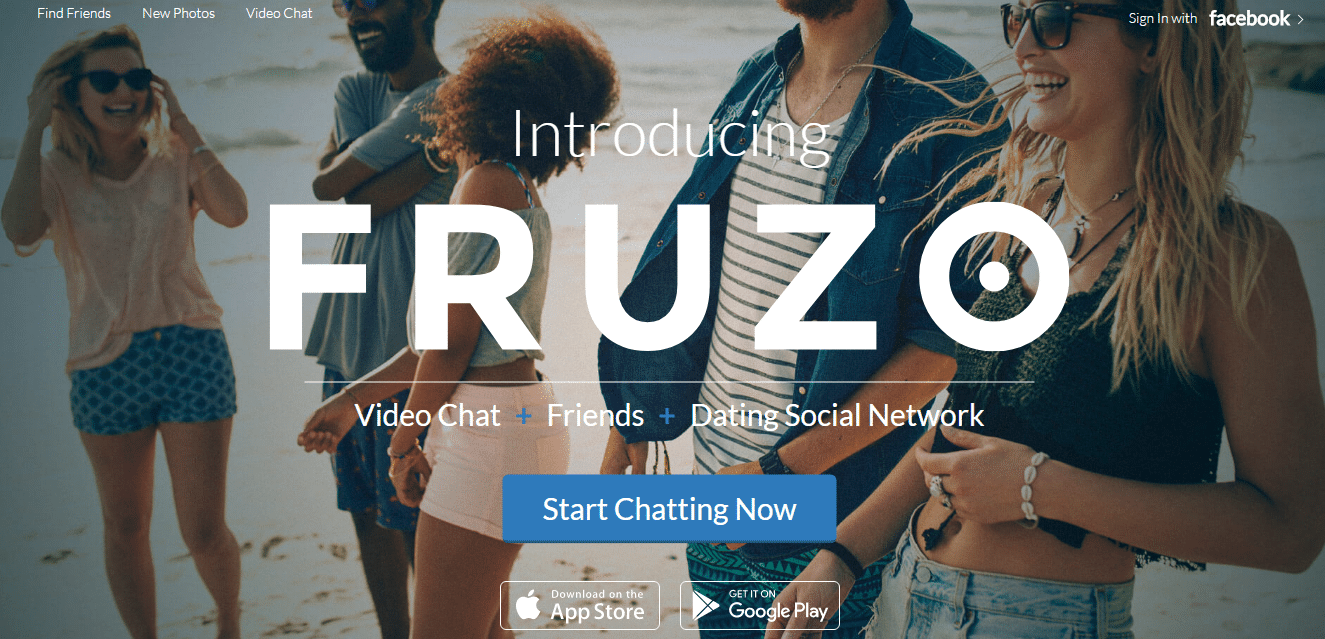 Fruzo is an online dating network that allows users to connect using their Facebook profiles. For those wanting more sites like Omegle, this service too allows users to communicate via video chat. Those who do not want to connect their Facebook account can create an account on Fruzo itself. Basically, this feels like Tinder met Omegle. There's also a search function on the Fruzo website which allows the users to find other users based on their age, gender and location.
Fruzo has one slight difference when it comes to key propositions. While Omegle and other websites are meant for 'friendships', Fruzo is more about dating and truly gives a Tinder-like vibe.
FaceFlow
FaceFlow is a website created for those people who are looking for other sites like Omegle. It takes things to the next level as not only does it allow video chatting with strangers on a one-on-one basis, it also allows a three-way chat where three people would be involved. It is a mix between a cam chat website and a social network. While other websites have tried modeling themselves as a social network, FaceFlow takes it one step forward.
The website allows the users to create searchable profiles which others can look up for, and add. You can use this platform not only to find strangers to talk with but also for video chats with your friends. Basically, this is more like Omegle meets Facebook meets Skype. Users are also encouraged to share their favorite photos and videos on their profile. There's also a multiplayer game called Flappy which was made by FaceFlow.
Hey-People

Hey-People is another popular site similar to Omegle.  The website is an experimental and non-commercial project which is aimed at bringing strangers closer. The site has no ads and offers a nice UI. Users have to register on the website and they can look up for people based on interests. Clicking a 'ZAP'  button would connect you to the stranger.
After you talk to them, you could either befriend them on the platform and meet them again later, or you could blacklist them, which is social network equivalent of blocking people. If you are looking for a video-chat-with-strangers service other than Omegle, this is one of the best sites like Omegle.
Chatroulette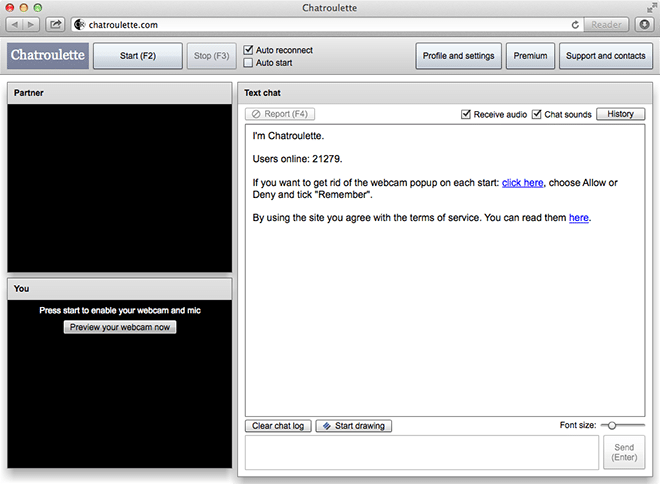 When it comes for those looking for similar sites like Omegle, Chatroulette is one of the first names that comes to mind. The service is very similar to Omegle in terms of the design as well as features. Similar to Omegle, it allows the users to connect with random strangers and chat with them using text, voice, and video. This site too was created in 2009 by another teenager - a 17-year-old.
Chatroulette has been running for all this time without ads and has grown to a massive size owing only to word of mouth publicity in the early days. Today, the website has millions of users using it every day and gives Omegle a tough run for its money.
ChatRad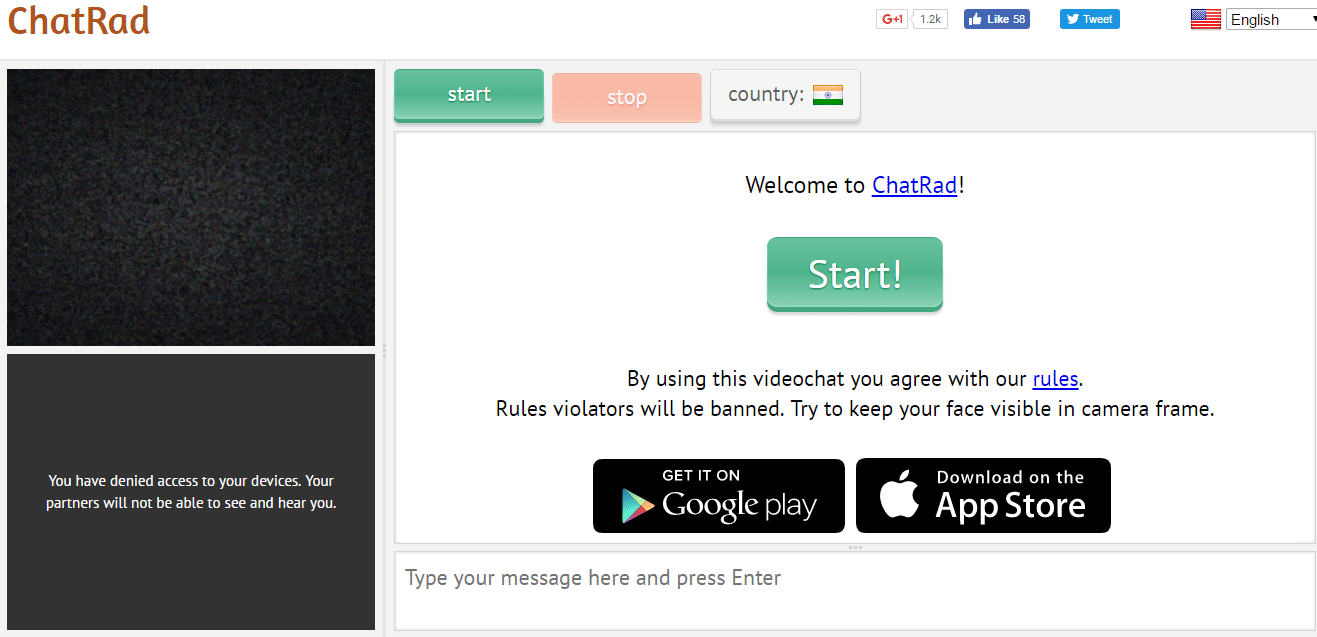 Another popular platform when it comes to sites like Omegle, ChatRad has been around for a while now, and the biggest advantage of using this app is safety in terms of content. While these anonymous chat apps do bring users together, the biggest problem that has surrounded them for so long has been that they, at times, tend to lose control on the kind of content that users broadcast using their camera. ChatRad however, offers an effective solution. It is one of the most popular services for those looking for non-adult content.
The website has a 24×7 team of moderators who are quite strict on the users who misbehave. The site wants users to connect on topics of interest and not on the basis of sexual imagery. This is indeed a strong differentiating factor for ChatRad in comparison to most other sites like Omegle.
FaceBuzz
A website similar to Omegle that would rather like to be known as a game than as a chat app. While it has all the features of Omegle, which includes video chat with random strangers, it comes with one major twist - it allows users to 'rate' you. The funnier you are, or the more creative you are, you are likely to get a higher rating on FaceBuzz. Basically, FaceBuzz is an online variant of speed dating. Considering that it takes only one click to disconnect with you, you have a limited time to impress the person on the other end! Do try it out.
ChatRandom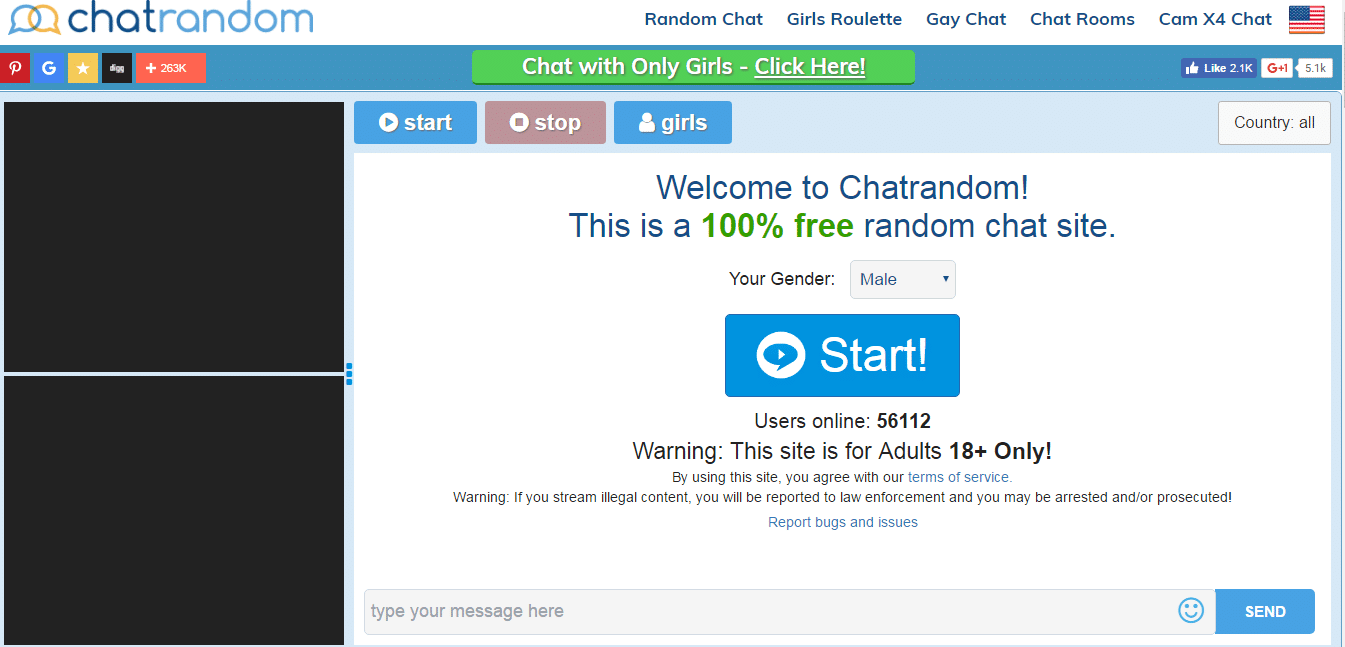 ChatRandom is a service which does exactly what its name states. It lets you chat with random people on the internet. The company, however, has a different proposition when compared to other sites like Omegle. ChatRandom not only wants to be a popular app where strangers can chat together, but they also want to be a household name at some point of time. They want to be mentioned in the same breath as Facebook, Twitter, and Google.
Quite ambitious, the platform has been growing with every passing day. They are constantly expanding and are adding support for more countries and language with every passing day. In this website too, users can select who they want to talk to - based on their age, gender or sexual preference. Video conversations too are supported. ChatRandom started off as an alternative to ChatRoulette stating that they change their rules too often.
BazooCam

A site like Omegle that also functions similar to the aforementioned ChatRad website. While video chatting with random strangers on the internet is one part of the offering, it also offers a 'clean' experience and ensures users do not get naughty on their camera. Users would be randomly paired with other active users, if they like them they may continue the conversation, if they don't they also have the option to 'skip'.
One of the more interesting things about this website is that it offers multiplayer games on its platform that the users can play with other users. It is a more interesting ice-breaker than the usual small talk which many find awkward.
iMeetzu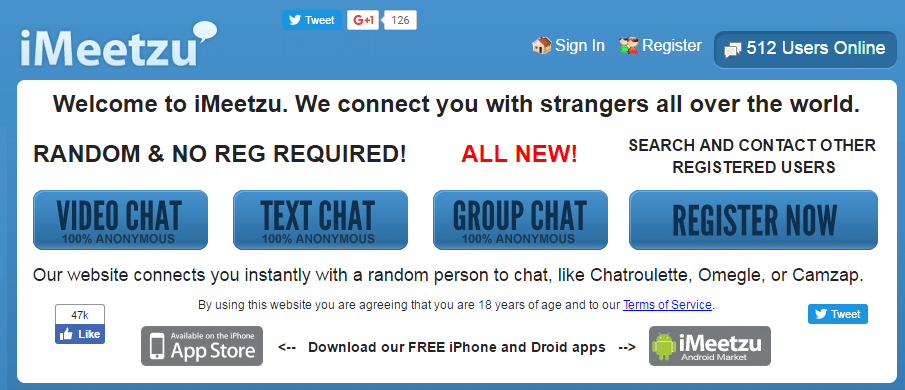 Anything with a small I in front of a capital letter automatically tends to catch your attention, doesn't it? Congrats Apple, that's branding done right. Anyhow, iMeetzu is a great platform for those looking for more sites like Omegle. The website is not only a platform where you can talk to random strangers on the internet but is also a dating platform. One could say that their offering is similar to what we saw in Fruzo earlier. This is a fast-growing platform with thousands of users joining it with every passing day. If you are looking forward to trying off some lines for your date, it's not a bad idea to first try it out on iMeetzu.
Bonus: Holla App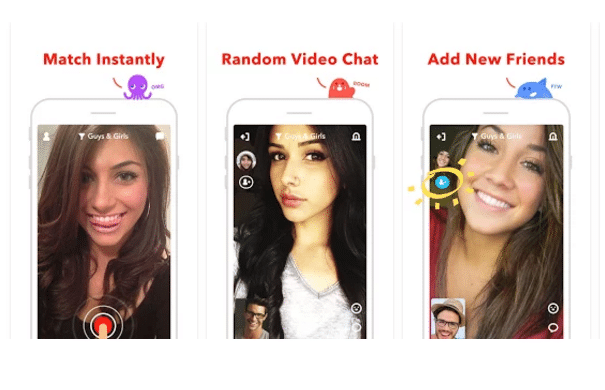 While we have talked about ten sites like Omegle, there's one major thing that Omegle lacks a proper Android app. There have been a number of apps similar to Omegle that work for Android devices, however, for those looking for an alternative to Omegle on their Android devices, one of the best apps that they should seriously consider using is that of Holla.
The Holla App is simple and easy to use and functions on pretty much the same principle as Omegle does. It has the users sign up on its platform, they need to enter their age, username, and country. The phone number is also asked but that is just for verification purposes and will not be shared with anyone.
The Holla app functions exactly like Omegle. You just need to press one button to set the ball rolling. If it works out well, you can continue chatting, or else you can swipe up to disconnect. If someone decides to disconnect you from the conversation, the next conversation is automatically connected. Users can also add friends in the app, as well as make use of filters.
There's an option to filter the users based on gender, but that only works when you have credits, which can be earned either by inviting friends to use the app or by purchasing them. If you are looking for other sites like Omegle, but want to try it out on your phone rather than on your PC, you should totally try out the Holla App which offers a great solution.
Things to Keep in Mind While Chatting With Strangers Online
While there's a certain thrill in chatting with strangers online on sites like Omegle, one needs to ensure that there's also a certain risk associated with it. One must ensure they follow the practices mentioned below to stay safe on the internet. These are the three golden rules we advise everyone to follow -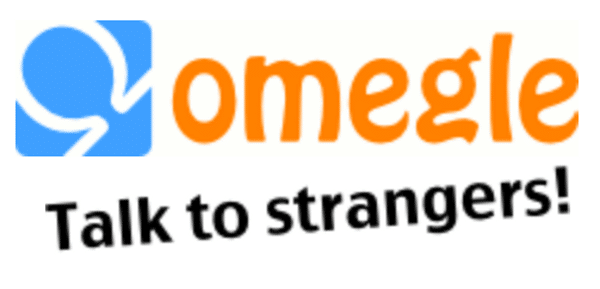 Rule #1: Always, at all costs, behave nicely and stay clothed. While our perverted side might take over at times, one needs to ensure they are not doing anything 'naughty' on the camera that they may regret later. It is completely possible for users to record anything that you are doing on their screen. Be it chat, text or audio, always make sure you're saying only the things that will not embarrass you if they were to be made public some day.
Rule #2: Never give away any private information to strangers on the internet. While this could be used to harass you or stalk you, it could also be used to scam you financially. Never trust anyone with your private information on sites like Omegle.
Rule #3: If you are being bullied, or you are subjected to content that you do not want to see, make sure you report that person to the website. Cyberbullying and sexual harassment is something that has been a rising concern on sites like Omegle, and while systems are being improved to ensure it does not happen, your report is how the system is notified of these activities.
These are the three golden rules that need to be followed on sites like Omegle where anonymous video chat takes place. We hope you have fun using this list of websites and stay safe while using them. Comment below and let us know which of these websites is your favorite. Also, let us know if we missed out on any sites like Omegle on this list.