Google introduced the Google Now feature a couple of years ago, and has since been improving the way it looks and feels. However, since the introduction of the Google Assistant, Google Now has taken a backseat. The last major redesign that we recall came in 2015, and it has since been pretty much the same. Google has now been working on a new transparent Google Now window which gives it a refreshed look and feel.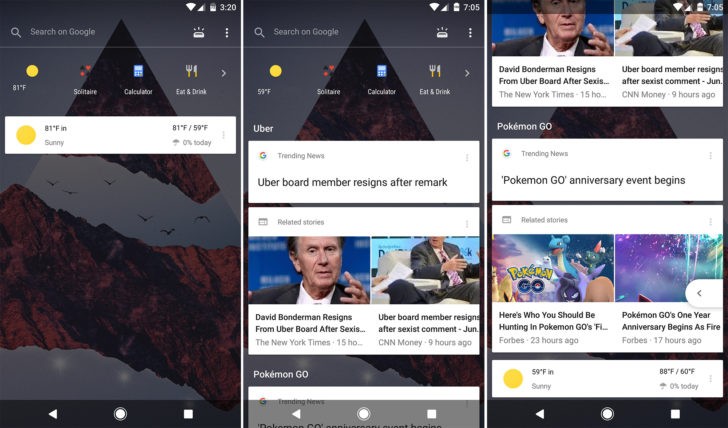 In the past, users could activate Google Now by pressing and holding the home button. However, since that key was allotted to Google Assistant, Google Now can now be accessed by swiping to the left from your home screen. It gives you the option to search on Google, as well as shows a number of 'cards' that show you trending stories from the websites you follow, and from your interests. These cards also show you the status of your delivery orders, sports update, weather details, etc. Google is now testing a new transparent Google Now window which is all set to refresh the experience for the users.
Interestingly, the name 'Google Now' has also been discontinued by Google, as the company now refers to it as Google Feed. However, for all practical purposes, it is still known as Google Now by most users. This new transparent Google Now layout does look interesting. It has essential information such as weather, and some quick access shortcuts on top. The highlight is the transparency that has been introduced to what previously had a white background.
Google is among the biggest, most popular names when it comes to the world of technology. Having started off as just a search engine, the company has reached unimaginable success, and continues to impress us. With this transparent Google Now window being tested, it looks like Google is innovating the user experience to keep things fresh and users motivated to use the feature more.
This was spotted by a Reddit user who got this update randomly. He is using an unrooted Google Pixel XL smartphone which has the May 2017 security patch. Looks like the update will be rolling out to more users soon. As of now we are not sure if this is only for the Pixel devices or for all users. Stay tuned with us for more updates.